RESULTS FOR GRID SQUARE 57b
MAPS FOR GRID SQUARE 57b
Map Location Diagram
The Map Location Diagram (right) shows the relative position of places within the area of this grid square.

Maps having this Map Reference Number will cover the whole area but be less detailed.

Maps with NE, NW, SE or SW in the Map Reference Number will only cover one-quarter of the whole area but be more detailed.
Click the following links for more information about How to Read a Map Reference Number or about Map Scale.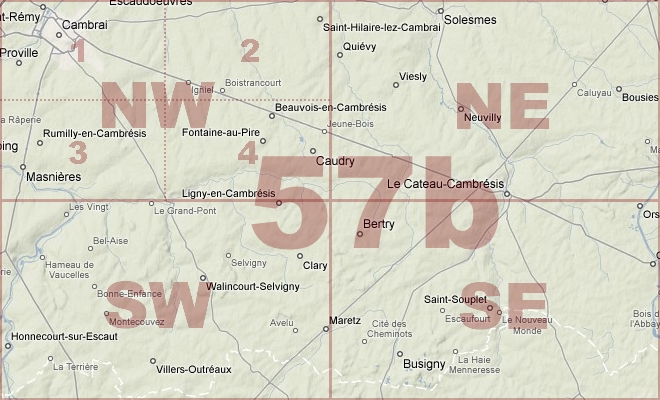 Maps for Grid Square 57b
| Link to Image | Map Sheet Number | Scale | Area | Date |
| --- | --- | --- | --- | --- |
| 433WW1MAP | 51b SE, 51a SW, 57c NE, 57b NW | 1:20,000 | Cambrai | 1918/08 |
| 334WW1MAP | 51b SE, 51a SW, 57c NE, 57b NW (parts) | 1:20,000 | Cambrai | 1918/09 |
| PC0813WW1MAP | 57b | 1:100,000 | Cambrai | 1917/09 |
| PC0814WW1MAP | 57b | 1:100,000 | Cambrai | 1917/09 |
| PC0815WW1MAP | 57b | 1:100,000 | Cambrai | 1917/09 |
| PC0816WW1MAP | 57b | 1:100,000 | Cambrai | 1917/09 |
| 388WW1MAP | 57b | 1:40,000 | Cambrai | 1917/05 |
| 174WW1MAP | 57b | 1:40,000 | Cambrai | 1917/12 |
| 52WW1MAP | 57b | 1:40,000 | Cambrai | 1918/09 |
| 92WW1MAP | 57b NE | 1:20,000 | Le Cateau | 1918/09 |
| 93WW1MAP | 57b NE | 1:20,000 | Le Cateau | 1918/09 |
| PC0359WW1MAP | 57b NW | 1:20,000 | Cambrai - Masnieres | 1915/00 |
| PC0360WW1MAP | 57b NW | 1:20,000 | Cambrai - Masnieres | 1917/03 |
| 350WW1MAP | 57b NW | 1:20,000 | Cambrai | 1918/08 |
| PC0361WW1MAP | 57b NW | 1:20,000 | Cambrai - Masnieres | 1918/09 |
| PC0132WW1MAP | 57b NW3 | 1:10,000 | south of Cambrai | 1917/11 |
| 94WW1MAP | 57b SE | 1:20,000 | Albert | 1918/09 |
| PC0368WW1MAP | 57b SE | 1:20,000 | Berty - St.Souplet | 1918/09 |
| PC0860WW1MAP | 57b SE | 1:20,000 | Berty - St. Souplet | 1918/09 |
| 73WW1MAP | 57b SE | 1:20,000 | Albert | 1916 |
| 89WW1MAP | 57b SW | 1:20,000 | Walincourt | 1917/04 |
| PC0362WW1MAP | 57b SW | 1:20,000 | Banteux - Bantouzelle | 1917/06 |
| PC0364WW1MAP | 57b SW | 1:20,000 | Banteux - Bantouzelle | 1918/02 |
| 56WW1MAP | 57b SW | 1:20,000 | Walincourt | 1918/08 |
| PC0365WW1MAP | 57b SW | 1:20,000 | Banteux - Bantouzelle | 1918/08 |
| 208WW1MAP | 57b SW | 1:20,000 | Walincourt | 1918/04 |
| PC0366WW1MAP | 57b SW | 1:20,000 | Banteux - Bantouzelle | 1918/09 |
| 168WW1MAP | 57b SW, 57b SE, 57c NW, 57c NE | 1:10,000 | Queant | 1917/05 |
| 435WW1MAP | 57c NE, SE, 57b NW, SW | 1:20,000 | Gouzeaucourt | |
| 192WW1MAP | 57c SE, 57b SW, 62c NE, 62b NW (parts) | 1:20,000 | Wiancourt | 1918/09 |
| 152WW1MAP | 57c SE, 57b SW, 62c NE, 62b NW (parts) | 1:20,000 | St. Emilie | |
---
AERIAL PHOTOGRAPHS FOR GRID SQUARE 57b
There are no aerial photographs in our collection for this area
---
---
Contact: mapref@mcmaster.ca